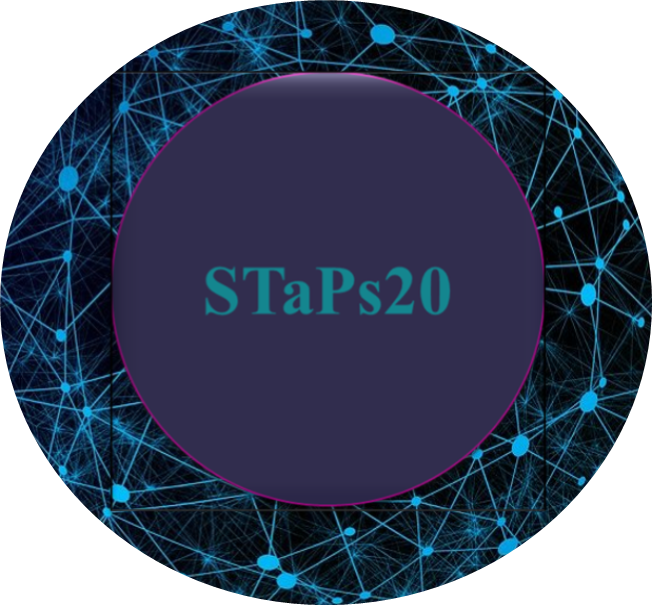 The 20th STaPs (Sprachwissenschaftliche Tagung für Promotionsstudierende – 'Linguistics Conference for Ph.D. students') will take place online from Friday, February 24th, to Sunday, February 26th of 2023.
STaPs. The STaPs as a conference by Ph.D. students for Ph.D. students seeks presentations of ongoing research with a particular focus on methodological and theoretical issues. You do not have to be able to present any results to participate. On the contrary, here, you are welcome to focus on your methods and express the challenges you might be facing. For this reason, this conference is particularly addressed to doctoral students in the beginning phase of their thesis. Projects of any area of linguistics can be presented (theoretical and descriptive linguistics as well as psycho-, neuro-, sociolinguistics and computer linguistics; synchronic or diachronic).
We welcome 500-word abstracts (including references) for the following categories:
Talks (20 min. + 10 min. Q&A)
For more information on the submission of abstracts, click here.
Important dates
Abstract submission deadline: October 31st, 2022
Notification of acceptance: January 2023
Registration: January/February 2023
Conference languages: English and German
Contact: For inquiries, please send an email to staps.conf20@gmail.com
We are looking forward to having you at the digital STaPs!
Your STaPs20 team
(Aicha, Aline & Roshanak)
___________________________________________________________________________________________________
Conference program: Apart from your presentations, there will also be keynotes, a workshop, seminars, a panel discussion and a webinar by guest speakers.
Downloads:
___________________________________________________________________________________________________
We would like to thank our reviewers for their time and effort:
Dr. Alessandra Zappoli – University of Florence, Italy
Prof. Dr. Alfred Wildfeuer – University of Augsburg, Germany
Prof. Dr. Andrea Fischer – Károli Gáspár University of the Reformed Church, Budapest, Hungary
Prof. Dr. Andrea Reményi – Pázmány Péter Catholic University, Budapest, Hungary
Dr. Andreas Bülow – University of Augsburg, Germany
Dr. Azzam Alobaid – Jawaharlal Nehru University, New Delhi, India
Prof. Dr. Balázs Surányi – Pázmány Péter Catholic University, Budapest, Hungary
Prof. Dr. Barbara Seidlhofer – University of Vienna, Austria
Prof. Dr. Chokri Smaoui – Sultan Qaboos University, Muscat, Oman
Prof. Dr. Cser András – Pázmány Péter Catholic University, Budapest, Hungary
Prof. Dr. Erzsébet Barát – University of Szeged, Hungary
Prof. Dr. Eva Eckkrammer – University of Mannheim, Germany
Dr. Frank Paulikat – University of Augsburg, Germany
Dr. Greta Mazzaggio – University of Florence, Italy
Dr. Hajer Abidi – University of Bejà, Tunisia
Prof. Dr. Helmut Gruber – University of Vienna, Austria
Prof. Dr. Katalin Berces Balogné – Pázmány Péter Catholic University, Budapest, Hungary
Prof. Dr. Mária Adorján – Károli Gáspár University of the Reformed Church, Budapest, Hungary
Dr. Matthias Klumm – University of Augsburg, Germany
Dr. Oliver Ernst – University of Augsburg, Germany
Prof. Dr. Paolo Lorusso – University of Florence, Italy
Dr. Rana Khan – University of Bath, UK
Prof. Dr. Sonja Zeman – University of Augsburg, Germany
Dr. Tlili Saad – University of Dammam, Saudi Arabia
Prof. Dr. Zoltan Poór – University of Pannonia, Veszprém, Hungary
___________________________________________________________________________________________________
We would like to thank our sponsors for their confidence in our conference and for their support: